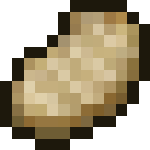 Neste vídeo logo acima contém a primeira situação onde o nome Bisqueca é mencionada por mr_piggyguy meu antigo e primeiro nome no minecraft dedicado aos Piggy guys soldados de Porky, mas continuando neste video começou a série mais épica que eu mais o Eraldo fizemos do mapa The Kingdom of The Sky para Minecraft está foi a primeira Série que participei.
Surgimento de BisquecaEdit
Tudo começou em um lindo dia na terceira vez que usei o skype para jogar minecraft, com meus amigos no servidor de TH-Craft quando eu sem querer falei o nome Bisteca de forma errada, e as pessoas entenderam Bisqueca a situação foi o seguinte em baixo colocarei o díalogo.:
Darth_Pingas diz- Graças a Deus eu estava morrendo de fome so faltava uma coxinha para eu morrer vou tirar a minha Bisqueca (Bisteca) da fornalha (Por favor não entendem essa frase com duplo sentido quando eu falei vou tirar minha bisqueca da fornalha poís acho que vocês devem ter entendido = Vou tirar minha bunda da fornalha = espero que não entendem isso.) e logo depois que falei isso Jason falou - aidsaidsaidsaids AAhHAHAHhahAAH Bisqueca lol Bisqueca aidsaidsaids não acredito que você falou isso HUEHUAHUEHUAHUEHUA. É logo após isso termina esse lindo dialógo.
O FIM DA BISQUECA...Edit
Essa foi a primeira frase dita por min e logo com o tempo esse erro foi perdendo a graça mas nunca deixará de ser esquecido como um clássico, graças ao Jason que ficou fofocando isso pra todo mundo.
Ad blocker interference detected!
Wikia is a free-to-use site that makes money from advertising. We have a modified experience for viewers using ad blockers

Wikia is not accessible if you've made further modifications. Remove the custom ad blocker rule(s) and the page will load as expected.