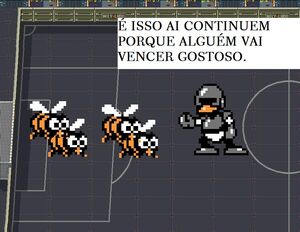 Segundo vídeo da Série MM8BDM do canal de Mendigão PLAYZ, onde marca o surgimento do Pato assasino de baianos é o primeiro Gameplay de Tiago Pereira conhecido também pelo seu codenome secreto do F.B.I Merda 42.
Conhecimento do Pato AssasinoEdit
O Roteiro desse vídeo foi feito apartir do Easter Egg da fase de Starman do Megaman 5 feita no jogo MM8BDM onde no canto da fase perto do sátelites, você pode ver o Pato passando quando você mataela começa a tocar a sinfonia da música Moon de Duck Tales 1 da plataforma de NES onde também surgiu esse Pato que está presenta na fase Moon, acho que colocaram ele para fazer um Easter Egg do jogo eu achei bem interessante por um lado, que possui o sprite desse Pato e também pela troca da música e as fases se conbinam muito bem.
CuriosidadesEdit
Esse é o primeiro vídeo onde Tiago Pereira aparece usando Microfone
A luta contra o Pato assasino no começo do vídeo foi apenas uma encenação
No final do vídeo é apresentado a verdadeira cena do jogo onde mostra o Easter Egg do Pato e seu local de Nascimento onde você pode matar ele e a música troca para a faso Moon do jogo Duck Tales para NES.
Ad blocker interference detected!
Wikia is a free-to-use site that makes money from advertising. We have a modified experience for viewers using ad blockers

Wikia is not accessible if you've made further modifications. Remove the custom ad blocker rule(s) and the page will load as expected.