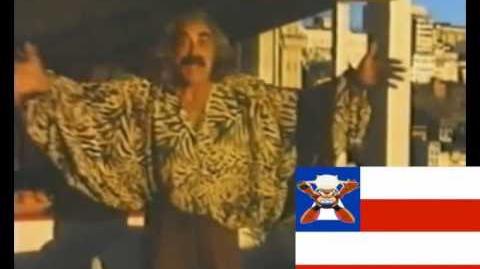 Pierre Baiano acaba de trazer o novo ritmo do verão, ele compôs a mpusica dédicada a seu primeiro robô feita com a ajuda do seu irmão Dr.Wily o Homen Brilhante Baiano da Silva, esse vídeo é apenas um dos milhares outros remix de Robot masters do Megaman.
Pierre Baiano e Dr.Wily são Irmãos que nasceram por Dr.Coça o saco e Dra.Pekka kana (Pega na cana) Dr.Wily era o mestre da ciência desenvolvia robôs e planejava a cura de doenças, já o Baiano vendia droga em domicílio escondido dos seus Pais e para que seu irmão Wily não contasse o Baiano sempre comprava um pirulíto de groselha pra calar a boca dele, os tempos se passarão é o Dr.Wily expulsou seu irmão de casa porque não aguentava ele porque o Baiano sempre estragava suas construções e deixava a casa fedendo a Maria fedida no cío então Pierre Baiano foi seguir um novo caminho em sua vida, ele se mudou para o Morro da favela em Bahia onde lá ele descobriu o seu amor a CINDERELA BAIANA!!! e toda vez quando ele via ela o senhor Dicktoon vibrava   mais do que um vibrador usando viagra, e até os dias de hoje Pierre Baiana tenta se casar com a cinderela mas o seu escravo Beto nunca ajudou os planos de Pierre direito e tudo ia por água abaixo.
CuriosidadesEdit
Pierre Baiano nasceu graças a um dos piores filmes Brasileiros de todos os tempos "Cinderela Baiana" esse filme fez de tudo para fazer sucesso mas foi muito críticado em público e foi um fracasso nas bilheterias.
Pierre Baiano ficou conhecido como um meme de Youtube Poops Brasileiros pela sua fala CINDERELA BAIANA   que é repetidamente usado em remixes.
Na TH-Craft o Pierre Baiana é um meme muito usado em montagens no canal de Mendigão Plays e muito mencionado em vídeos de Renan Th e Eraldo Th.
Ad blocker interference detected!
Wikia is a free-to-use site that makes money from advertising. We have a modified experience for viewers using ad blockers

Wikia is not accessible if you've made further modifications. Remove the custom ad blocker rule(s) and the page will load as expected.