Ad blocker interference detected!
Wikia is a free-to-use site that makes money from advertising. We have a modified experience for viewers using ad blockers

Wikia is not accessible if you've made further modifications. Remove the custom ad blocker rule(s) and the page will load as expected.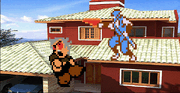 Video feito por Mendigão Pleis onde mostra O Veío que cai do Telhado e seu irmão o James Bunda correndo no meio da Rua comendo xícara junto, com o prato e caindo do telhado e metendo o pau nos outros veio para resgatar o Camelo que caga sopa de trigo do Pierre Baiano.
O Veío era um neguinho da rua com calças paranauêses turbinadas ele morava no planeta Acre que ficava em um portal Dimensional em um oceano do Planeta Terra, um dia um Caminhão de bichas insuportáveis caiu perto dele e o Veío ganhou um Camelo que cagava Sopa de Trigo, então como o Veío era bem pobre ele resolveu fugir do seu planeta e foi para na Bahia e ele quis lucrar com seu negocío de Sopa de Trigo, naquele tempo o Pierre Baiano trabalhava com comércio de Drogas em domicílio e ele viu que ele estava perdendo muito do seu lucro por causa do Veío e então ele resolveu raptar o Camelo e colocou um monte de Veío punks que eram cegos e não tinha dentadura o Baiano prometeu que iria entregar o Tapete sagrado fapado pelo PINGAS do Álvaro, o Veío ficou com raiva porque perdeu o camelo dele e então ele resolveu invocar o Lord das Trevas o Pato Assassino de Baianos mas ele estava ocupado ensinando a abelhas a como fazer sexo selvagem dentro de Gaiolas depois disso e Veío ficou amaldiçoado e toda vez que ele fosse subir em um Telhado ele iria cair e morrer ou se ele não caisse ele iria ter alusinações de ninjas acrianos atacando pimenta e ele ia cair e morrer mas ele reincarnava denovo, depois disso ele foi tentar fazer uma viagem ao centro do universo e parou em uma ilha deserta que parece o limbo, e lá era um paraíso repleto de Gorilas Mêcanicos e lá o líder era o James Bunda e o Veío descobi que ele era o seu velho irmão separado os dois entraram em um acordo para poder encher de porrada a guange do Baiano e eles fizeram um projeto de Uma Capivara Gigante que tinha uma geladeira cheia de bebês drogados do apocalipse zumbi até hoje o Baiano fica fugindo do bicho.
CuriosidadesEdit
Ele é o inimigo mortal do Pierre Baiano
Ele tem varias aparições em hacks de jogos de NES
Sua primeira aparição para zueira foi no G-MOD